Why Service at Competition INFINITI?
INFINITI Oil Change
Your INFINITI is designed to perform at the highest levels; to push your limits and create a more empowering driving experience. That's why we only use high-performance synthetic oil and high-performance INFINITI brand oil filters. These components can help maximize your vehicle's performance. In addition, every oil change is performed by a highly trained auto technician who conducts a complimentary multi-point inspection. One of the easiest ways to help extend the life of your INFINITI is to protect its engine through regularly scheduled oil and filter changes. Engine oil reduces wear and tear by creating a lubricating barrier between each moving engine part. Meanwhile, a high-performance oil filter helps extend the life of your oil and your vehicle by capturing contaminants and reducing engine-damaging oil sludge build-up. At Competition INFINITI of Smithtown, we help clients keep up with the oil changes on their INFINITI vehicles through our Express Service. In an hour or less, you can have the oil changed in your INFINITI and be back on the road.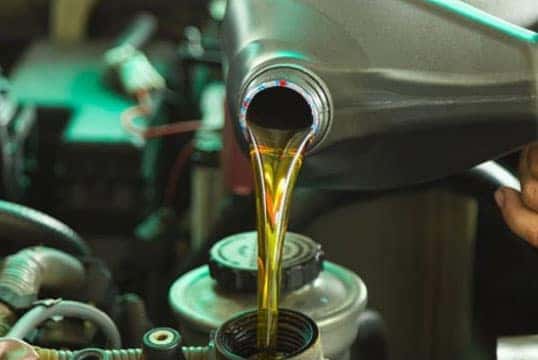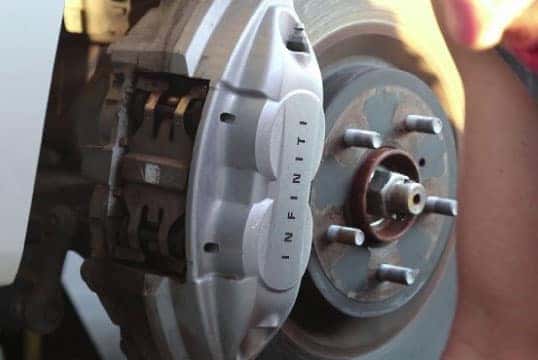 INFINITI

Brake Replacement
The brakes in your INFINITI help play a vital role in the safety of your family and the performance of your vehicle. That's why we recommend having them inspected by one of our highly trained auto technicians. This is especially so since the genuine INFINITI brake pads and rotors in your vehicle feature the highest standards in brake technology.
Below is a non-exhaustive list of signs that you need to replace your INFINITI brake pads:
Your Brake Warning Light is On.
You Hear Squealing or Grinding When you Apply the Brakes.
Your Vehicle Pulls to One Side or Another When Braking.
It Takes a Longer Time to Stop Than Normal.
As part of our complimentary multi-point inspection, a trusted factory-trained technician will check your brakes. The brake inspection procedure will only take a few minutes to complete!
INFINITI

Battery Inspection and Replacement
When you consider the advanced technologies inside your INFINITI, it is important to properly charge your vehicle's battery. Our highly trained technicians can perform a free diagnostic test to see if your battery is safe for the road, needs to be recharged, or needs to be replaced.
Extreme temperatures, vibration, or poor maintenance can degrade your battery and its performance over time. Rest assured we only install Genuine INFINITI replacement batteries that suit your vehicle's model. As part of our complimentary multi-point inspection, a trusted factory-trained technician will check your battery and generate a report about the condition of your existing battery.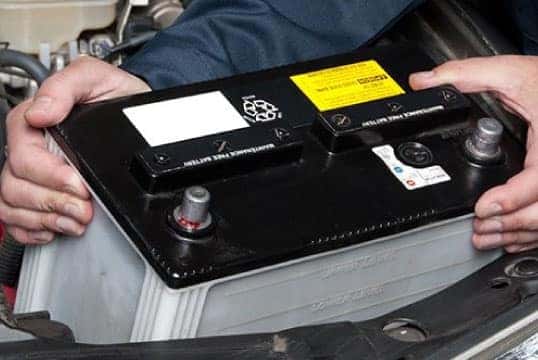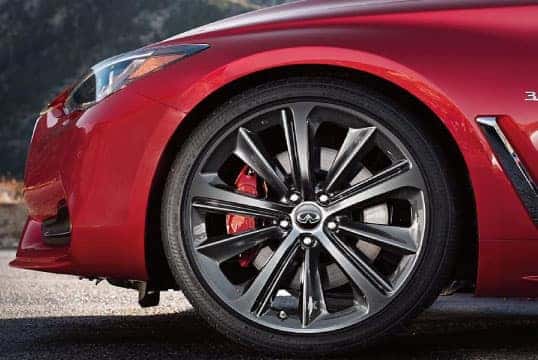 INFINITI

Tire Rotation
Tire rotation is an important aspect of vehicle safety, thus you should make sure yours are in good shape. Check your tires to spot visible wear or uneven tread wear, which can affect the overall driving experience and the vehicle's ability to stop in wet weather conditions. Your driving patterns will determine the life of your tires and indicate which type of tires will work best for you. Our Service Department Team can resolve any tire issue you are facing and recommend the best possible solutions.
Do I Need to Have My Vehicle Aligned When I Buy New Tires?
Tires are a good investment, so it is always smart to have your vehicle's alignment checked to ensure they will last. A bad alignment can cause your vehicle to pull to one side, causing unnecessary wear and tear to your new tires. A good indication that your alignment needs attention is the sign of an uneven wear pattern on your tires. Our trained technicians will align your tires in no time!
What Kind of Tires are Best for My INFINITI?
There are many different types of tires available for your vehicle. To best determine the best tires for your INFINITI, consider the vehicle type, normal driving conditions, and driving habits. All of these factors should be taken into consideration when buying new tires for your INFINITI.
Check your INFINITI vehicle at our authorized INFINITI Service Center, which is conveniently located in St. James, NY! Our dealership strives to provide the best service possible to represent the award-winning persona of the INFINITI brand. That's why Competition INFINITI of Smithtown always offers the best value, customer service, and amenities.
---


Have your INFINITI vehicle checked today by our authorized INFINITI Service Center, located conveniently in St. James, NY! Be sure to also check out our Service and Parts Specials we have available. When you service your INFINITI through Competition INFINITI of Smithtown, you get the best value, along with the best customer service and amenities. Our dealership strives to provide the best service possible to represent the award-winning persona of the INFINITI brand. Schedule your next service appointment with Competition INFINITI of Smithtown to experience the best INFINITI service possible in Suffolk County, NY! Contact us today to learn more about our Service Center or stop into our showroom today in St. James, NY!
Exceptional Service from our Expert Technicians
Competition INFINITI believes that nothing should stand in the way of you maximizing your driving experience. Our Factory Trained Technicians know your INFINITI better than anyone else and are eager to help you get back on the road. The Competition INFINITI of Smithtown Service Center offers a variety of services on new and pre-owned vehicles such as oil changes, filter replacements, wheel alignments, tire rotations, coolant flush, electrical repair, brake pad repair, steering repair, and so much more.Visit Competition INFINITI of Smithtown on 587 Middle Country Road in Saint James today to speak with a highly trained Service Advisor. Competition INFINITI of Smithtown is located near the Smith Haven Mall in Lake Grove, NY and about 15 minutes away from Stony Brook University and 20 minutes from MacArthur Airport! Be sure to stay up to date on our Service Specials and Part Specials. Call us today at 631-237-0139 or schedule an appointment online.