Show Your INFINITI Some Love This April For National Car Care Month
Winter has finally come to an end and spring is in full swing! There is no better time than April to get your car in tip-top shape for summer road trips or simply for driving around town! National Car Care Month in April is the time of year to give your INFINITI some extra attention. Basic maintenance is essential and can go a long way toward improving the safety and dependability of your vehicle, plus it helps avoid costly repairs down the road. Keep reading for a rundown of the car maintenance services we highly recommend for this time of the year.
Show Your INFINITI Some Love This April
It is important to make sure your tires, brakes, and windshield wipers are ready for the rain and take care of any issues that may have occurred or been ignored during winter. Our team here at Competition INFINITI of Smithtown strongly suggests scheduling a service to see a professional at our Service Center.
Basic Vehicle Maintenance
Check Tire Pressure & Tread Wear
Most tire damage and wear is a result of driving on tires that are improperly inflated. Tires that contain the specified amount of air pressure last longer and contribute to vehicle safety. Tires that are not properly inflated can lead to poor traction and an increase in rolling resistance. Frequent tire rotations are essential to the life of your tires. It is recommended to rotate your tires after driving 5,000 to 8,000 miles to prevent uneven wear. Contact our Service Team with any questions or concerns you may have. Visit our online tire store and take a look at our large inventory of tires.
Check Brake System
You may have used your brakes too often this past winter due to the snowy conditions. Icy roads adversely affect the car's brakes due to the low friction between tires and the road. Most people change their brake pads after driving 10,000-20,000 miles and their rotors after driving 50,000-70,000 miles. You should also check to see if your brakes make a grinding noise or if your stopping distance has increased. We highly recommend seeing a professional to inspect your vehicle and help with these basic but very crucial maintenances.
Check The Exhaust & Battery
If you notice any unusual noises, it could indicate that your exhaust system may be damaged or have leaks. Exhaust leaks can be dangerous and must be corrected right away. A battery check will inform you if the connection is corrosion-free, tight, and clean. The battery should be securely mounted. If it is three years old or more, the battery should be tested and replaced if necessary. Schedule a service online at our Service Center or stop by our Express Service Center where no appointment is needed.
Change Fluids
Check the oil, filters and fluids. Oil should be checked at every fill-up. Check your vehicle's owner's manual for the recommended intervals. Brake, transmission, power steering, coolant and windshield washer fluids should also be checked regularly. Your car's filters, including those for the transmission, fuel system and interior ventilation, need regular inspection and replacement. Head to our blog for more information on synthetic oil vs. conventional oil, car filters and why you change them regularly, and INFINITI premium cabin air filters!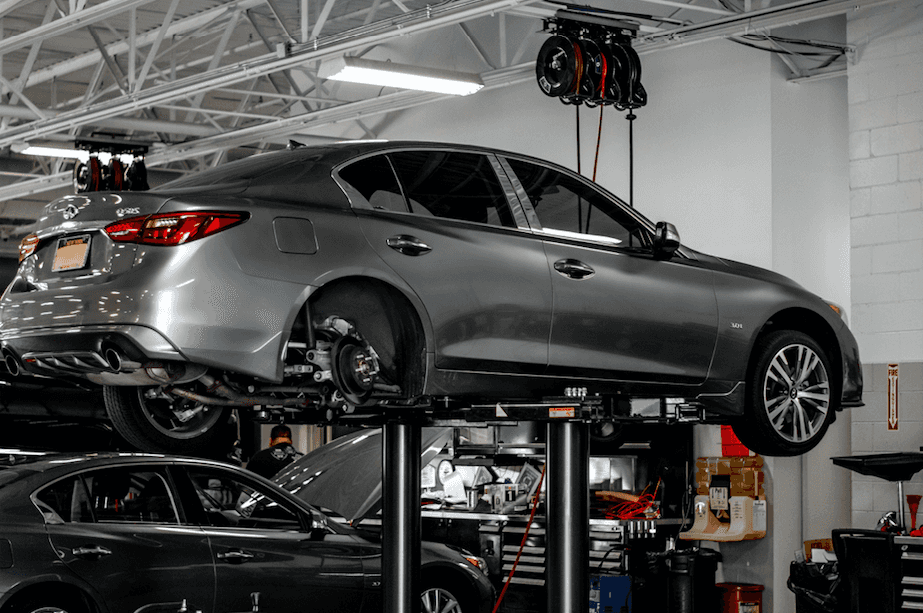 Some of these maintenances can be done by yourself, but we highly recommend scheduling a service with a professional for the best results. Schedule a service online at our Service Center or stop by our Express Service Center where no appointment is needed! Be sure to take advantage of our new INFINITI lease specials and service & parts specials! Stop by our dealership and explore our large inventory of new and pre-owned vehicles! Test-drive vehicles like the 2021 INFINITI QX50 or the 2021 INFINITI Q60! Visit us today at 587 Middle Country Road, Saint James, NY!