Meet The 2023 INFINITI Q50!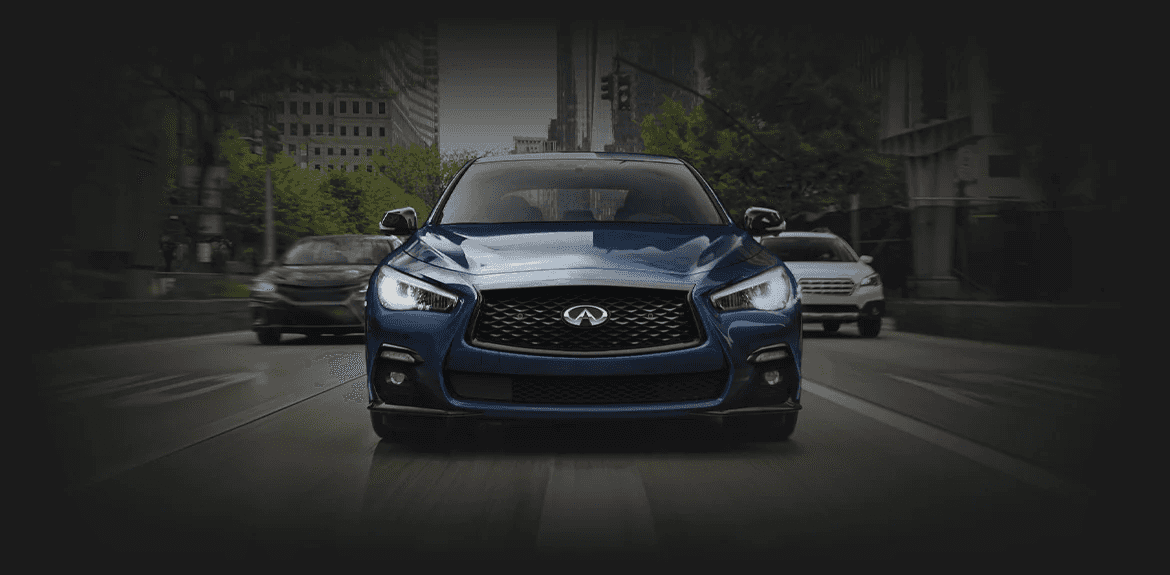 Competition INFINITI was saddened to report that the INFINITI Q60 is experiencing its last joyride from the production factories to our showrooms. Although the INFINITI Q60 will be missed, INFINITI USA has put in dedicated efforts to showcase and upgrade the 2023 INFINITI Q50! From everyone at Competition INFINITI, we are more than eager to bring this stunning sedan into your life! 
At Competition INFINITI, we know that excitement encompasses every single RPM, angle, edge and shade of our vehicles, especially the 2023 INFINITI Q50.
There are 3 different 2023 INFINITI Q50 models with an All-Wheel Drive option for each: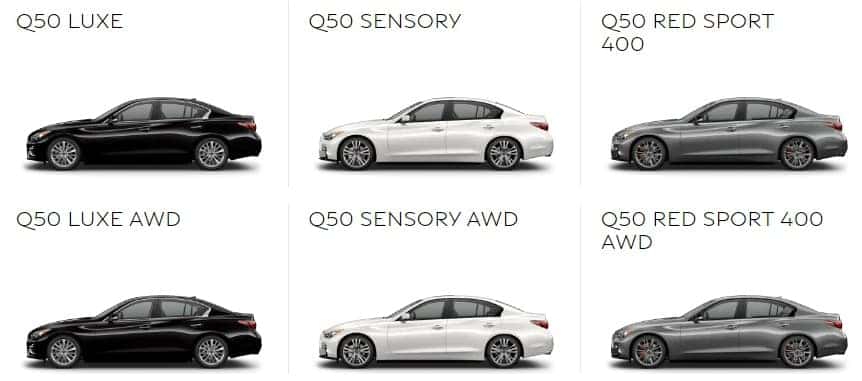 Under the hood of this sedan rests a twin turbo, 3 liter, 6 cylinder engine with 300 hp, 295 lb-ft of torque and a water-cooled air charging system. The 2023 Q50 Red Sport 400 harnesses a twin turbo, 3 liter, 6 cylinder engine with 400 hp, 350 lb-ft of torque, two turbo speed sensors and dual water pumps! Get out the door, into the garage, and onto your next adventure!
There are 3 base color options. For no additional charge, INFINITI fans can choose between Graphite Shadow, Black Obsidian or Pure White.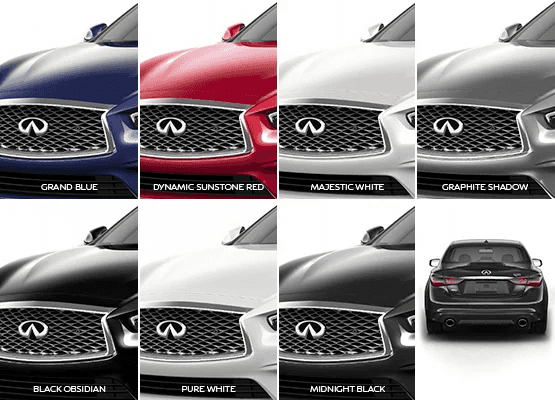 For an additional fee, drivers can also consider Grand Blue, Dynamic Sunstone Red, Majestic White and Midnight Black!
The interior is equally as stunning as the exterior! Set out into the world with no fear of sun damage! The 2023 INFINITI Q50 has UV-reducing solar glass. Protect your skin and your supple, soft interior effortlessly! Shade-wise, you can choose between Graphite Leather, Stone Leather or Saddle Brown leather! Regardless of your preferred color-way, your INFINITI vehicle will represent you elegantly. For full details in regards to color-way combinations, you can build your dream INFINITI!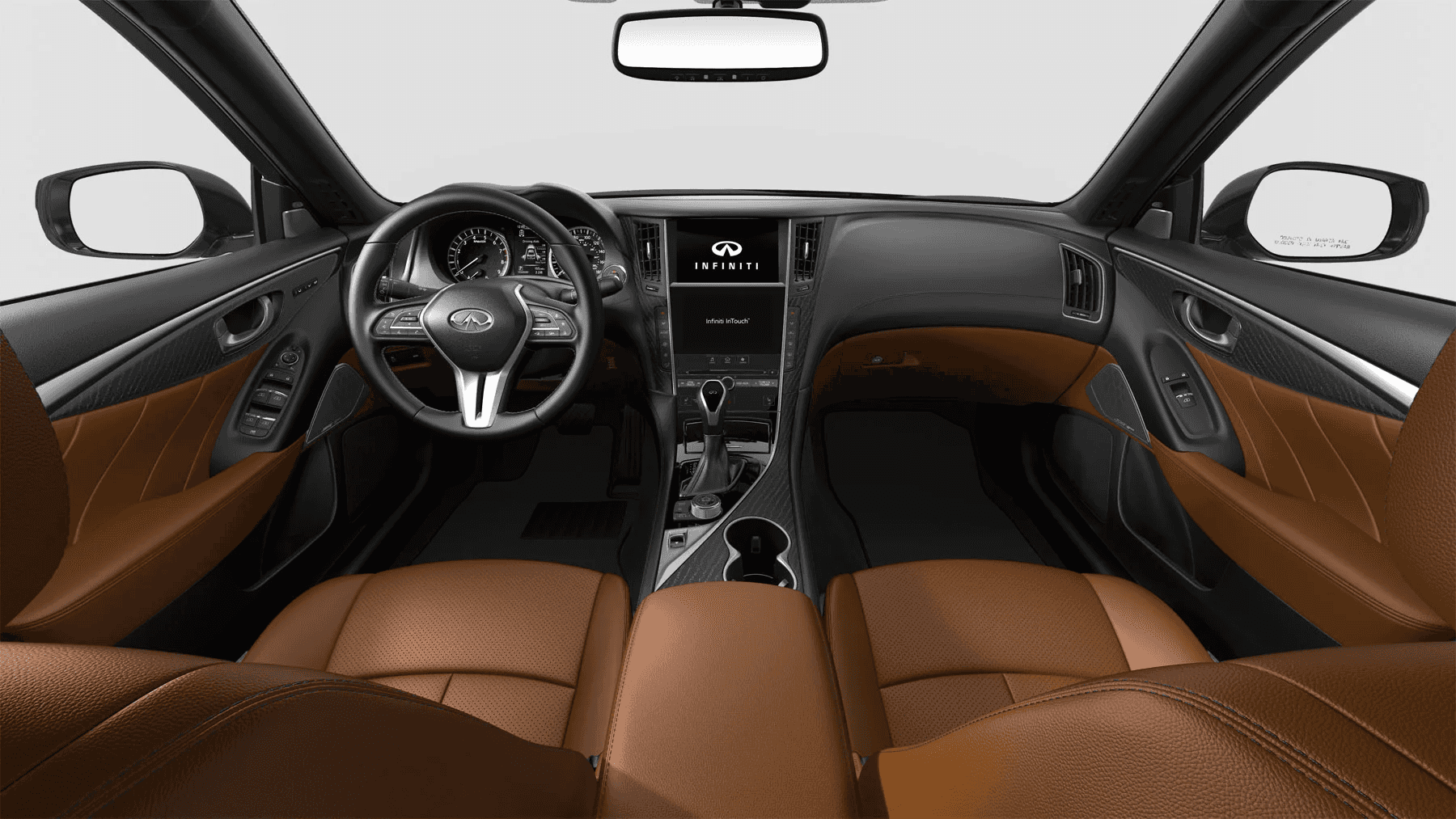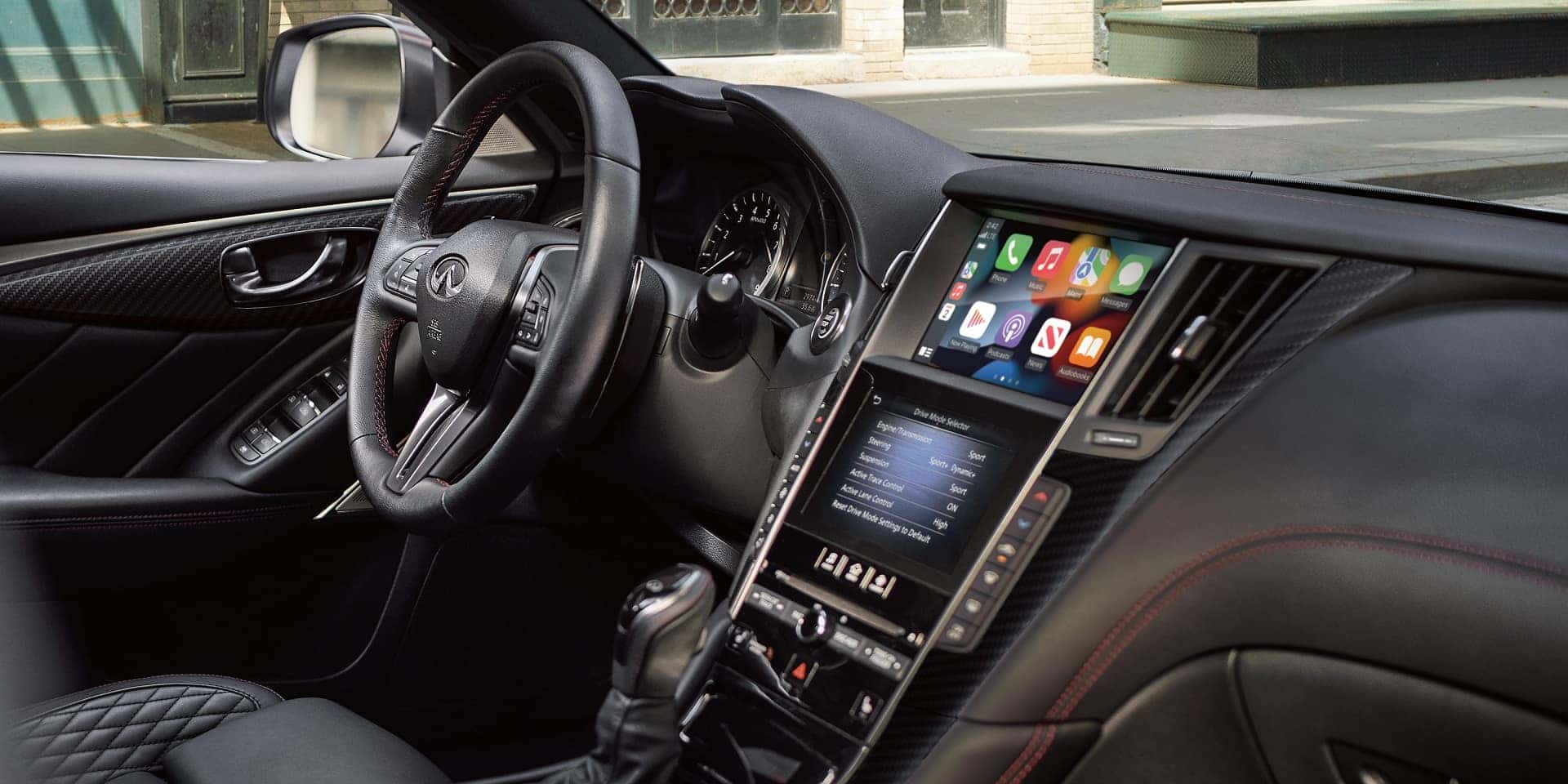 The luxurious, high-end experience expected from INFINITI starts from the second your special INFINITI key is in your hand and the front door handle courtesy lights illuminate your path in! Meet the INFINITI Intelligent Key.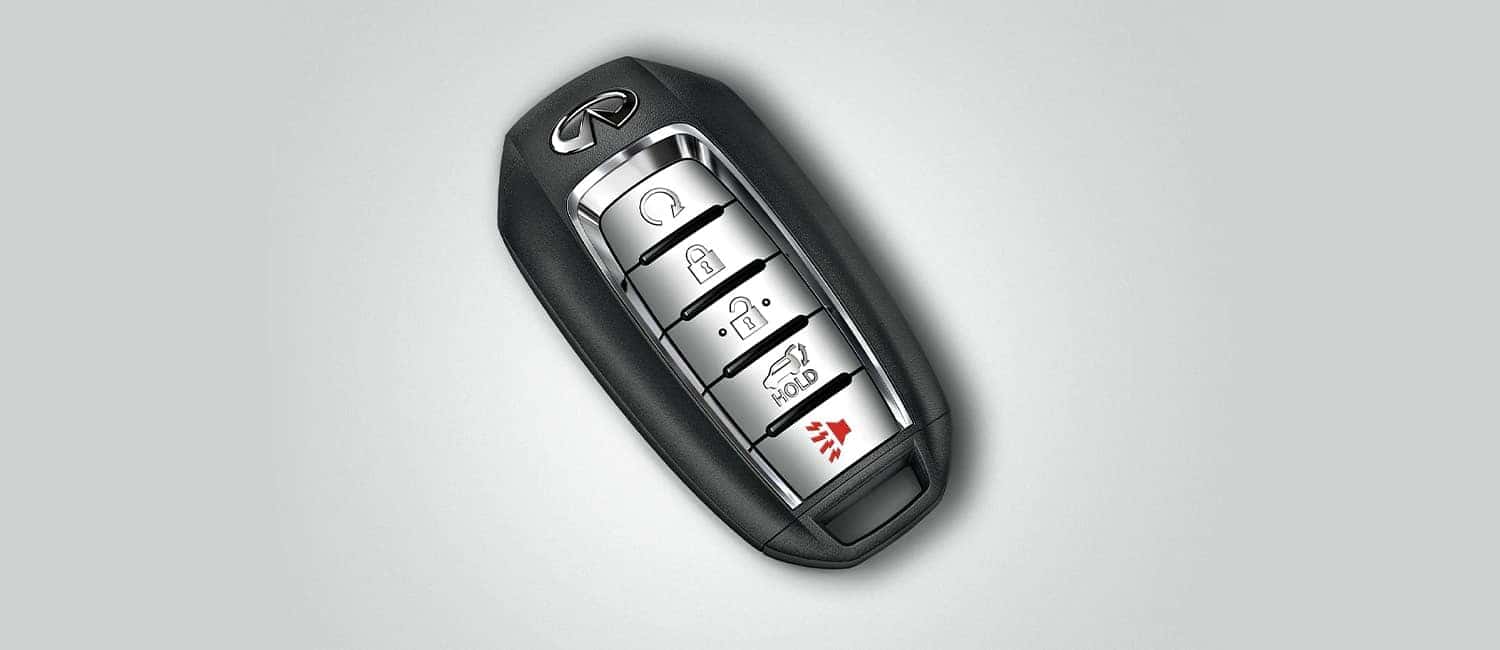 The INFINITI Intelligent Key is more than the beginning of your road trip with your INFINITI vehicle! The INFINITI Intelligent Key can be used to remotely power-open your windows, remotely start your engine or save your personal adjustments for the driver's seat, steering column and outside mirrors through its settings! This exciting new feature from INFINITI is sure to pique your interest. Experience sheer luxury and have your car adjust to your preferred vehicle settings without having to lift a hand or take your key out of your pocket.
Speaking of, the INFINITI Intelligent Key also teams up with the standard Remoteless Keyless Entry System and the INFINITI InTuition system. The Remoteless Keyless Entry System comes with the Door Handle Touch Selective feature, meaning you can unlock simply the driver doors or all 4 doors!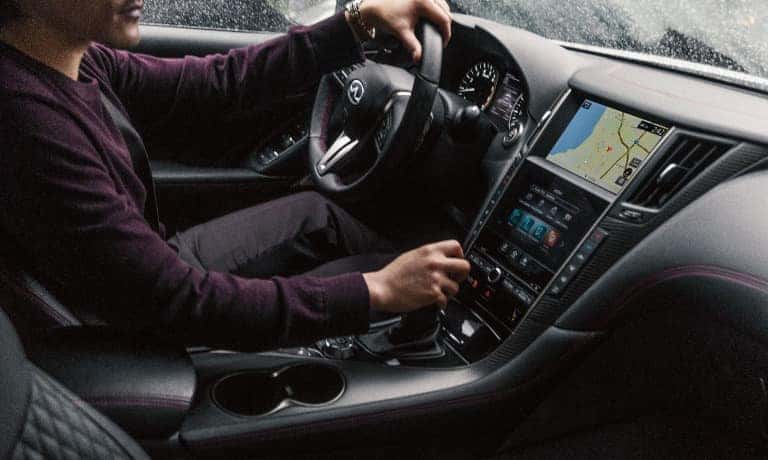 The INFINITI InTuition sits at home as a fully customizable digital environment for audio, climate control, feature displays, IT functions and navigational settings. The INFINITI Intelligent Key houses this prefered information as well.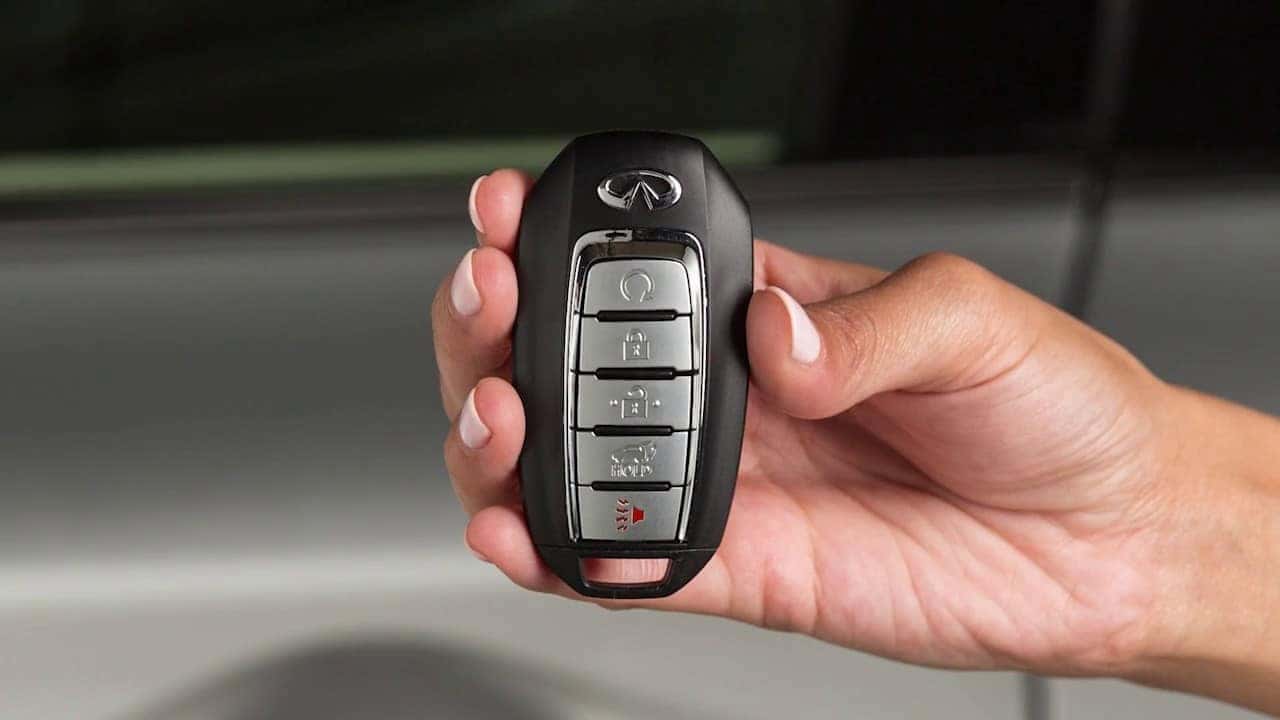 Fret not, if your INFINITI Intelligent Key battery gets depleted, there is a backup slot located within the cabin of the vehicle. This slot senses your INFINITI Intelligent Key and allows the vehicle to start without question. The INFINITI Intelligent Key is as insightful as Einstein!
The 2023 INFINITI Q50's key-fob is as intelligent as the vehicle itself. With wordlessly helpful assistive features such as:
Automatic Collision Notification
Emergency Call
Intelligent Distance Control
INFINITI Vehicle Immobilizer System
Multi-Function Trip Computer with Fuel Range and Outside Temperature Display
INFINITI Voice Recognition
Speed and Rain Sensing Variable Intermittent Front Windshield Wipers

Retained Accessory Power for Windows and Moonroof (if equipped)

Battery Saver

Helps Prevent Accidental Discharging If Electric Accessories are Left on

Entry/Exit Assist for Driver's Seat and Steering Wheel

Wireless Apple Carplay
INFINITI Drive Mode Selector
Bose Performance Series Audio System
The electronically controlled 7-speed automatic transmission is also packed with driver assistive features in all Q50 models to ease your commute, such as:
Adaptive Shift Control
Hill Start Assist
Dual-Automatic Transmission Coolers
Driver-Adaptive Learning Algorithm

The transmission in the 2023 INFINITI Q50 can sense your driving style and automatically adjust automatic shifting accordingly.

Manual Shift Mode

Manual Shift Mode offers sequentially selectable manual gear shifts and downshift rev matching.

Rear Wheel Drive (in models that aren't AWD)
Active Trace Control

Active Trace Control adjusts the vehicle's braking and engine torque to help enhance cornering feel.
The 2023 Q50 Red Sport 400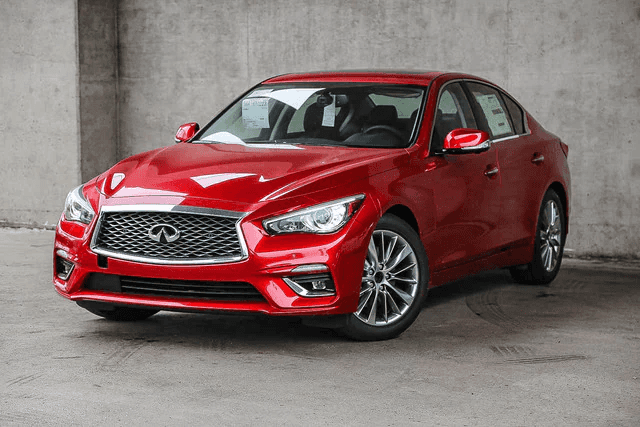 The 2023 INFINITI Q50 Red Sport 400 is described by INFINITI USA as, "a Beauty and a Beast", and what a lovely, menacing monster she is! As previously mentioned the 2023 INFINITI Q50 Red Sport 400 has 400 horses, two turbo speed sensors, dual water pumps and 350 lb-ft of torque!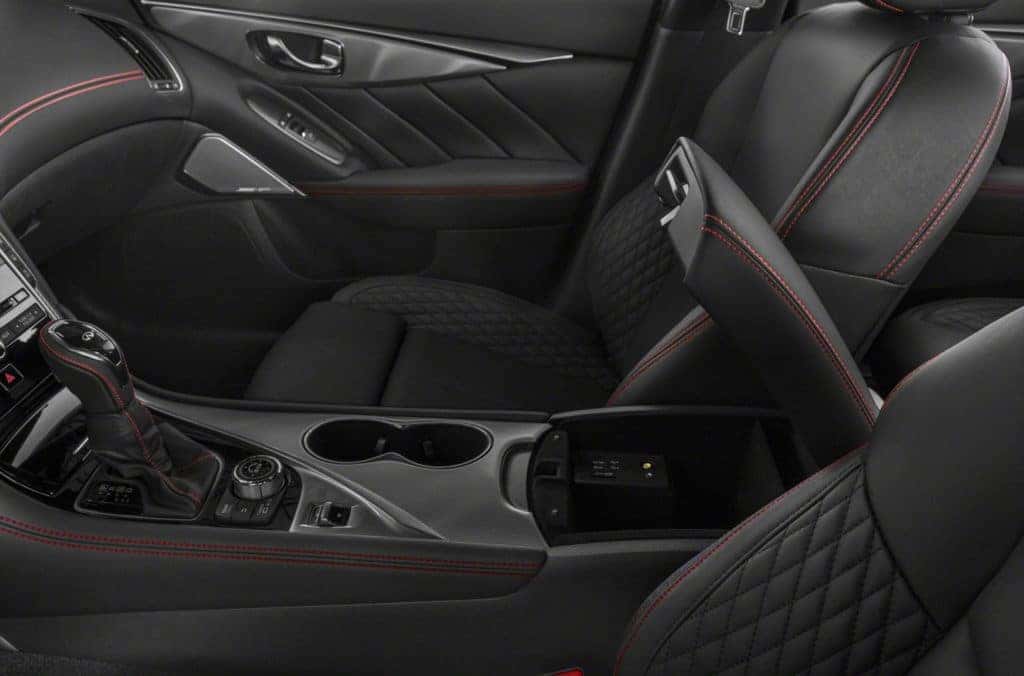 Competition INFINITI and INFINITI USA knows stopping is as important as getting up and going! The 2023 INFINITI Q50 Red Sport 400 adores its very own its Dynamic Digital Suspension on both the front and rear axles. The front innovative electronic suspension system monitors the vehicle's pitch, body roll and bounce rate. The shock absorbers control value ensures a stable, controlled and smooth ride. The rear suspension works independently, with coil springers over shock absorbers and a stabilizer bar. The continuously variable, electronically controlled shock absorbers apply high damping force at low frequency vibrations (like during flat rides) and low damping force at high-frequency vibrations (for a smooth ride).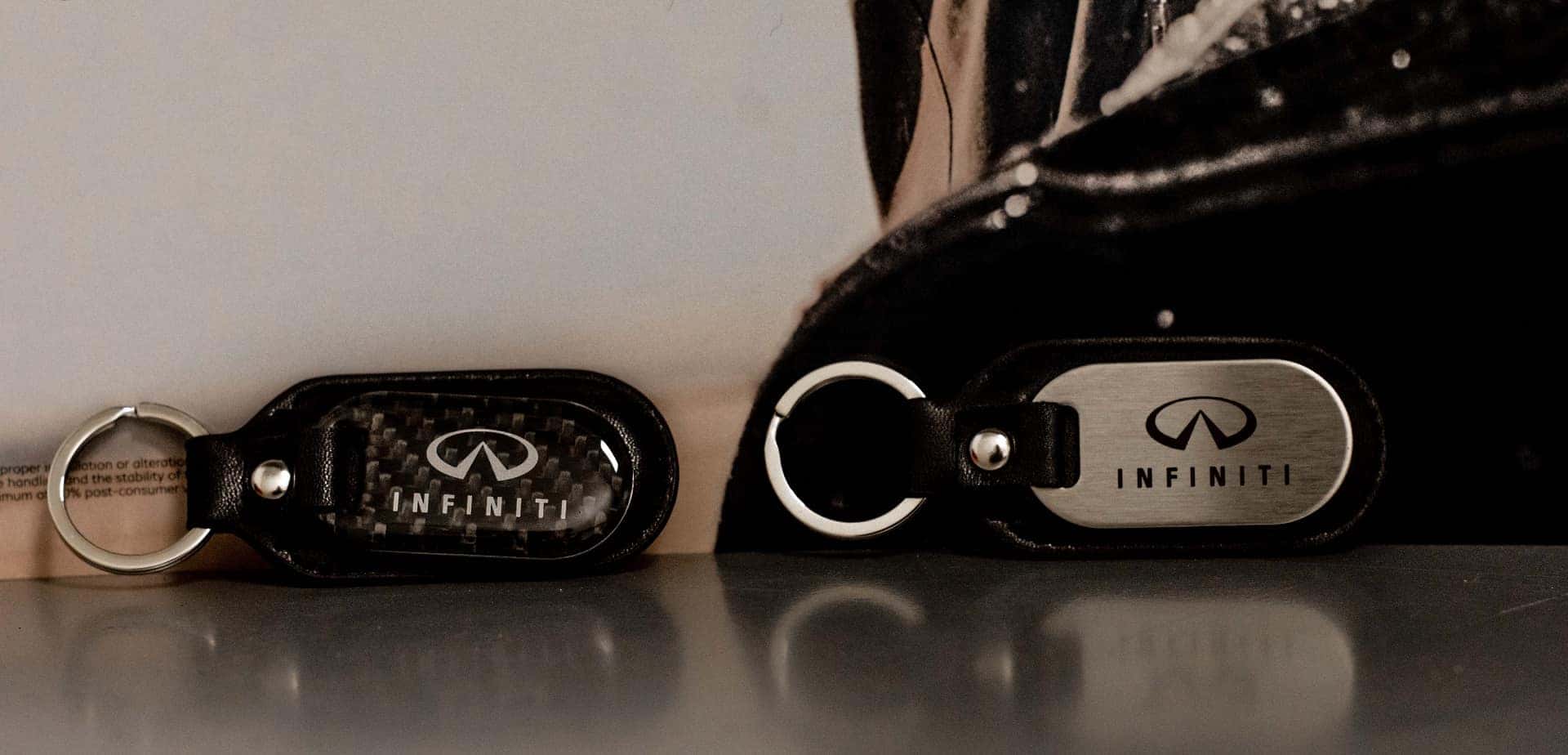 Competition INFINITI wants your INFINITI vehicle to be as unique as you are! Accessorize your beautiful 2023 INFINITI vehicle with these optional body protection accessories and genuine OEM INFINITI accessories for all three models:
Clear Rear bumper Protective Film

Splash guards

Carbon Fiber Rear Decklid

Moonroof Wind Deflector

Carbon Fiber Outside Mirror Covers

Rear Decklid Spoiler

Black Sports Grille

INFINITI Radiant Exterior Welcome Lighting

Wheel Locks

Wheel Center Caps in Dark Gray with the INFINITI Logo

F

loor Mats

Carpeted

Sport

All-Season

Trunk Area Protector

Cargo Organizer 

Cargo Net

Console Net

Shopping Bag Hook

Emergency Road Kit
First Aid Kit

Security Impact Sensor

Seat Belt Extender

Rear USB Charging Ports (Set of 2)

Virtual Key

INFINITI Radiant Illuminated Kick Plates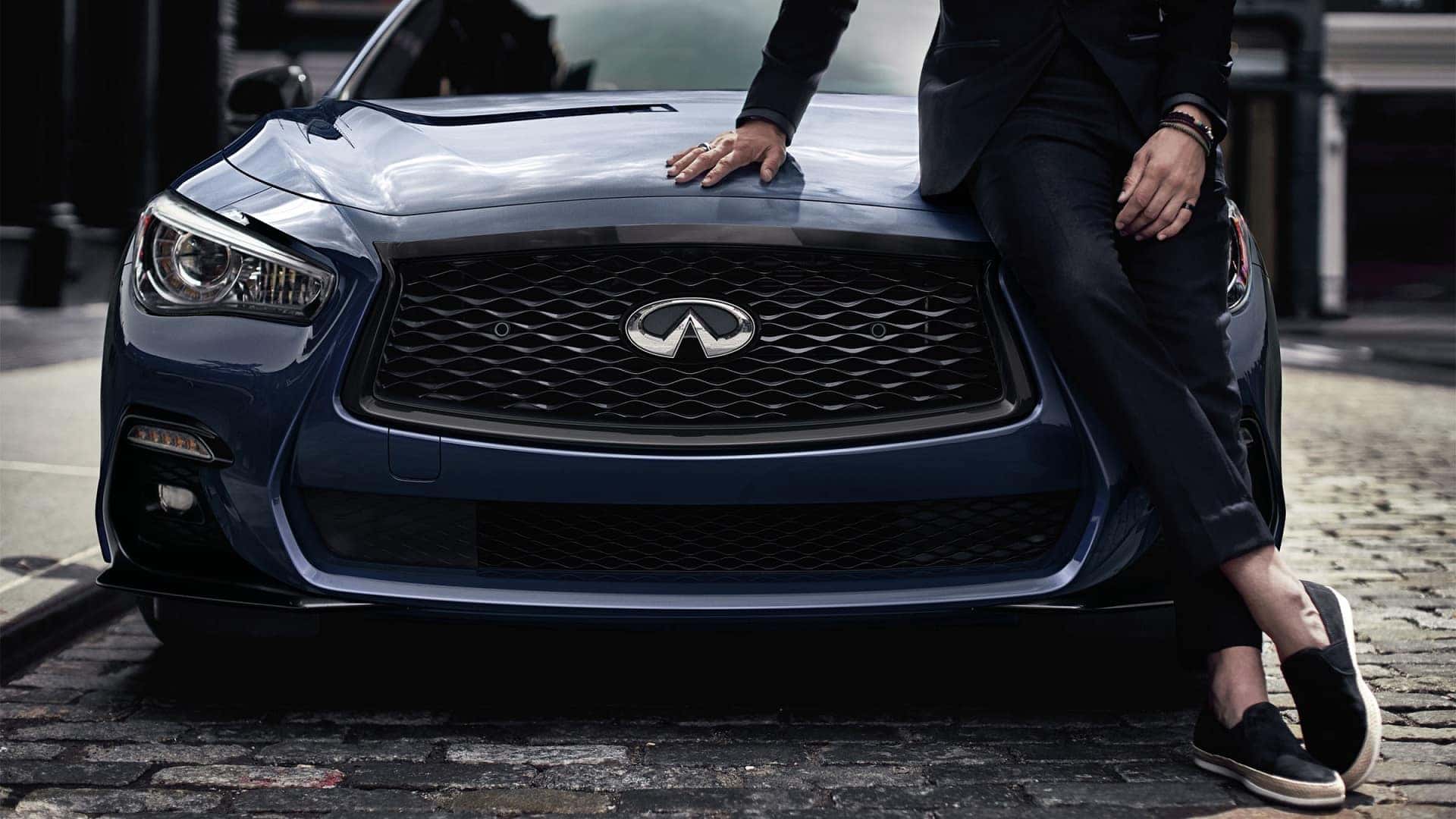 Competition INFINITI is proud to welcome the 2023 INFINITI Q50 and all of its trim levels with open arms and an excited smile! Inquire with our incredible Sales Department. The newest innovation from INFINITI USA, the speedy 2023 INFINITI Q50 sedan, is patiently idling for you!