Complimentary Wireless Apple CarPlay Upgrade Available For Most 2020 & 2021 INFINITI Vehicles
INFINITI's InTouch system is designed to improve the driving experience. Most 2020 and 2021 INFINITI models are eligible for a complimentary Apple CarPlay wireless upgrade from now until March 31, 2022… with no strings attached.
The complimentary Infotainment software update, which includes Wireless Apple CarPlay, will bring the vehicle's software to the current production level, improve the system's overall performance, and enable you to use Apple CarPlay wirelessly. The 2020 and 2021 Q50 INFINITI sports sedan, Q60 sports coupe, QX50 midsize crossover, and QX80 full-size luxury SUV are all eligible for the complimentary upgrade. Schedule a service online for your complimentary Wireless Apple CarPlay upgrade today at our Competition INFINITI of Smithtown Service Center.
INFINITI Apple CarPlay Compatibility
INFINITI introduced wireless Apple CarPlay compatibility in the all-new 2022 INFINITI QX55 in the spring, followed by the 2022 INFINITI QX80 with its new 12.3-inch INFINITI InTouch infotainment touchscreen. Wireless Apple CarPlay was announced with the New 2022 INFINITI Q50 and Q60, and then finally the all-new 2022 INFINITI QX60 seven-passenger SUV. Learn more here about the complimentary Wireless Apple CarPlay Upgrade here.
INFINITI Wireless Apple CarPlay Infotainment Upgrade Frequently Asked Questions
What happens if I don't have this update performed?
The Apple CarPlay features will not be able to be used wirelessly and the software installed will not match current production levels.
Where can I find out more about Wireless CarPlay features?
How long will this software update take?
This free update should take up to one hour to complete, however, the update may take longer depending on our team's work schedule.
Do I need to do anything or activate a subscription to use the Wireless Apple CarPlay?
A subscription is not necessary to use this feature. However, in order to ensure proper operation of CarPlay features, all iPhones being used will need to be removed, rebooted, and re-paired to the vehicle again. This is necessary to allow Apple's Wireless CarPlay prompts to be accepted for proper Wireless CarPlay operation. Please contact us for assistance if needed or refer to support.apple.com for further instructions.
I have a 2020-21 model year INFINITI Q50, Q60, QX50, and QX80 vehicle, how can I tell if my vehicle is eligible for this free software update?
Please contact us and provide us with your vehicle identification (VIN) so we can check to see if your vehicle is eligible.

INFINITI Wireless Apple CarPlay Phone Pairing Instructions
If your vehicle has been updated to allow you to use Apple CarPlay wirelessly, follow these few simple steps to begin using the feature.
Delete all paired Apple iPhone devices from the vehicle.
a. In the vehicle, press the MENU button (below the lower display).
b. Touch the "Connections" key (on the lower display).
c. Touch the info icon next to the name of the connected device.
d. Touch "Delete"
e. Touch "Yes"
f. Repeat steps c-e to delete all devices from the vehicle.
Un-pair the vehicle from your iPhone(s).
a. On your phone, touch Settings.
b. Touch Bluetooth.
c. Touch the info icon next to the device you want to un-pair.
d. Touch "Forget this Device"
Re-pair your iPhone(s) to the vehicle.
a. In the vehicle, press the MENU button (below the lower display).
b. Touch the "Connections" key (on the lower display).
c. Touch "Add New (X/5 Free)"
d. Follow the instructions on the "Connect Device" screen. When a PIN appears on the screen, operate the Bluetooth device to enter/confirm the PIN. And, for any Bluetooth connectivity issues, reboot the mobile phone or device.
e. After confirming the PIN matches, select whether the vehicle can access the phonebook for the phone being paired.
f. The vehicle will ask "Apple CarPlay requires to use Wi-Fi. Is it ok to deactivate all other Wi-Fi functionality to start Apple CarPlay?" You must select YES for Wireless Apple CarPlay to function correctly.
If you continue to have issues connecting to CarPlay contact Apple Support at support.apple.com/contact.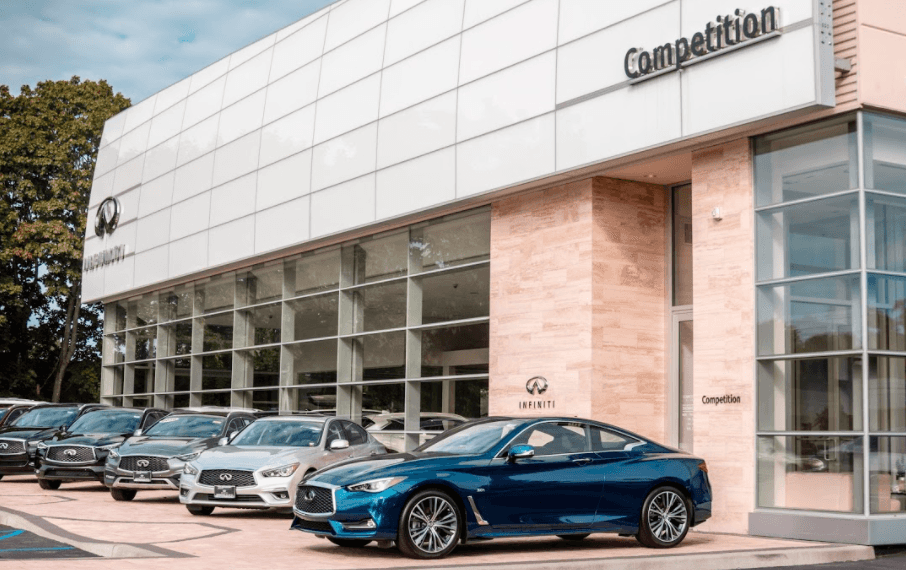 Stop by Competition INFINITI of Smithtown and explore our large inventory of new and pre-owned vehicles. Test-drive vehicles like the 2022 INFINITI QX55 or the 2021 INFINITI QX50. Be sure to also check out our new INFINITI lease specials and service & parts specials! Schedule a service online at our INFINITI Service Center or stop by our Express Service where no appointment is needed! Contact us with any questions or concerns you may have. We look forward to seeing you at our INFINITI dealership located at 587 Middle Country Road, Saint James, NY!